Data Orchestration for Data Workers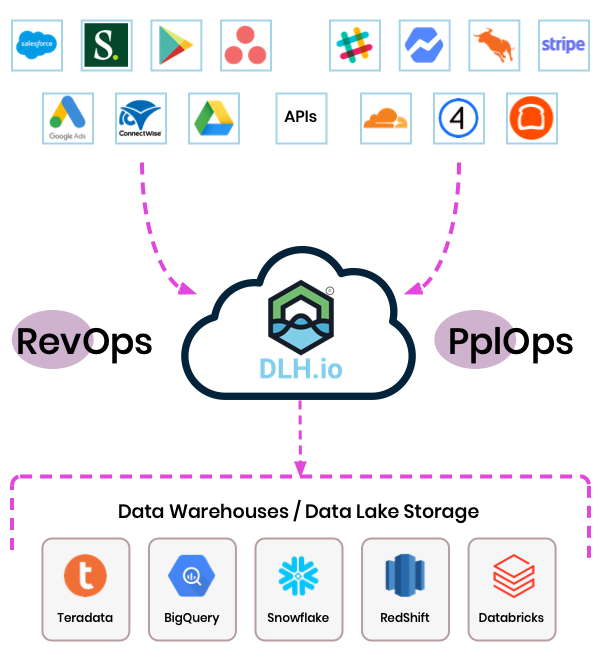 Without data there is no AI or ML!
We are the EL(t) in ELT.
Automate your workflows.
Orchestrate data and save time with data driven workflow automation.​
Accelerate your Idea!
Turn it on with data driven results you can trust.
Get your time back!
Data Orchestration.
BI/Analytics Insights.
PII Data Scanning.
Bolt On and Connect all the Dots
Set up everything to bolt on to your existing system(s) in under two(2) hours. From there you can synchronize, analyze, deduplicate, transform, and be the RevOps and/or PplOps data-driven team you've always dreamed about.
Does this Sound Familiar?
A lot goes into keeping customers happy. Orchestrate your Data Strategy using DLH.io
Businesses choose DLH.io for all data orchestration requirements —
from simple to complex
In comes DLH.io :
Wow all your data with fast, accurate, and operational BI/Analytics insights.
The Problem
we Solve

is

Data Chaos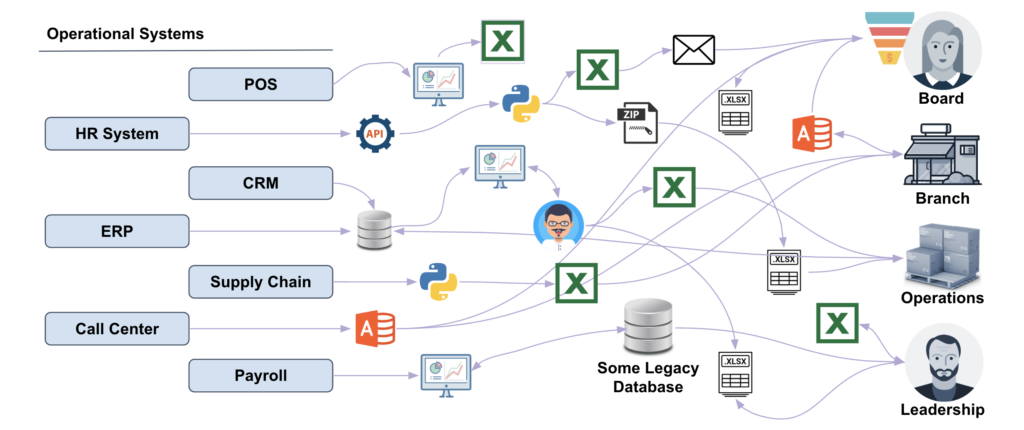 Choosing a data orchestration platform for operational insights is hard — but with DLH.io, it's not. DLH.io is the only data orchestration and customer data enablement platform built for collaboration, visibility, and efficiency at scale; turning data chaos into data order!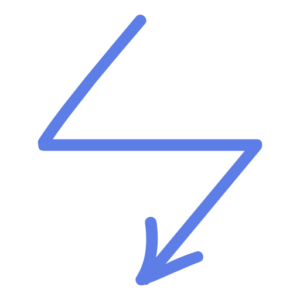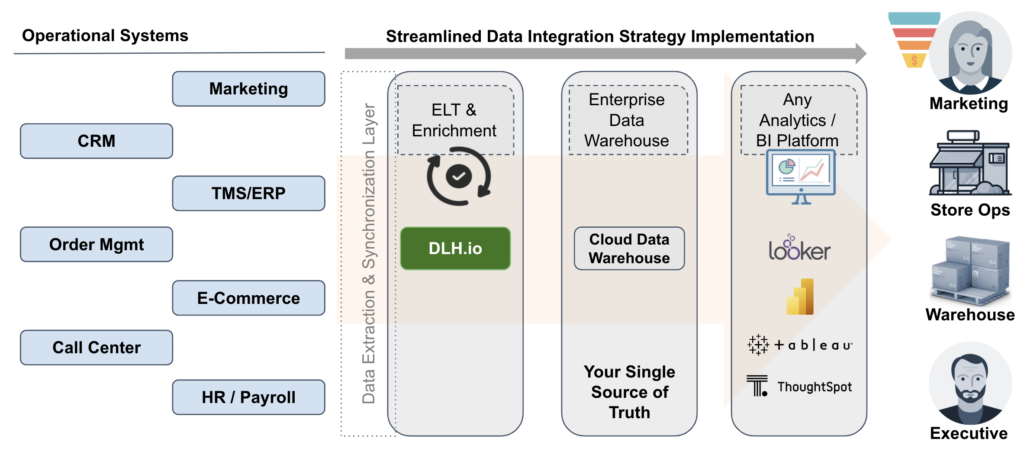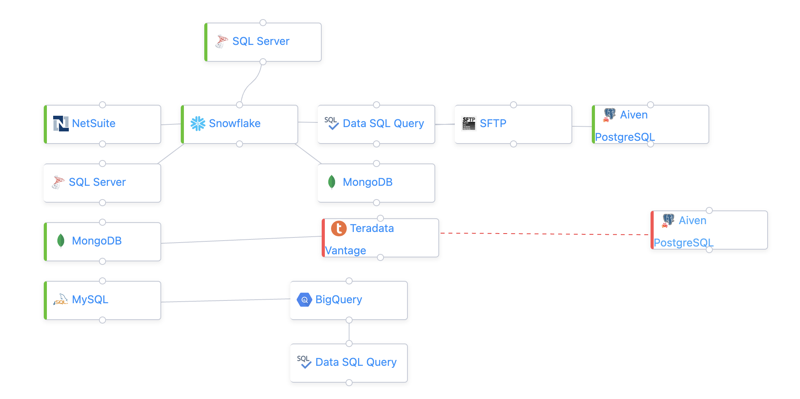 DLH.io automatically handles data workflows that synchronize and replicate your customer data, operational applications, and any database data to your Cloud Data Warehouse or other target of choice, ensuring every data point gets to the right place.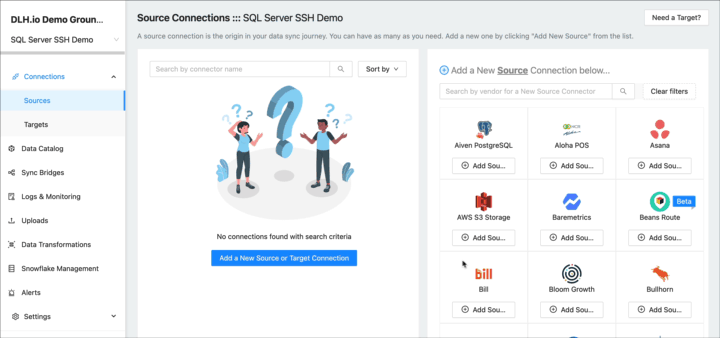 Choose from many pre-built source connector integrations where you are in complete control in a matter of minutes.
If we don't have the connector integration you are looking for, tell us and we'll build it.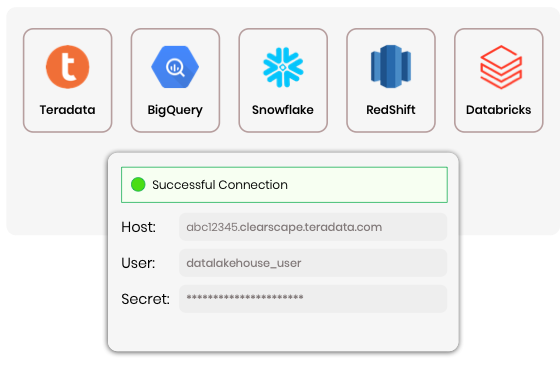 Automate Data Pipelines: Sync & Replicate (CDC)
As an ongoing minute-by-minute, hourly or daily process, DLH.io synchronizes your data to a target destination of choice. It handles incremental change tracking also known as Change Data Capture (CDC) so your analytics, reporting or downstream applications are always reporting the latest data.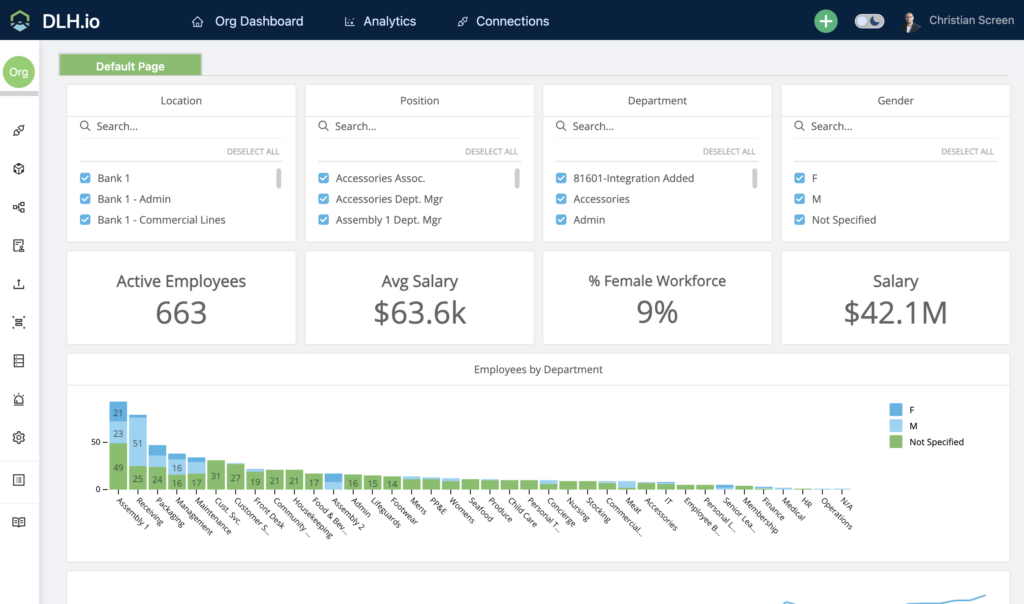 Visualize Application Insights Out of the Box
Use DLH.io pre-built analytics to actively surface visualizations, scorecards, and reports about your customers, marketing, and operations data to tell you how you are progressing towards your business goals, and provide better insight into performance and where you need help. Read More…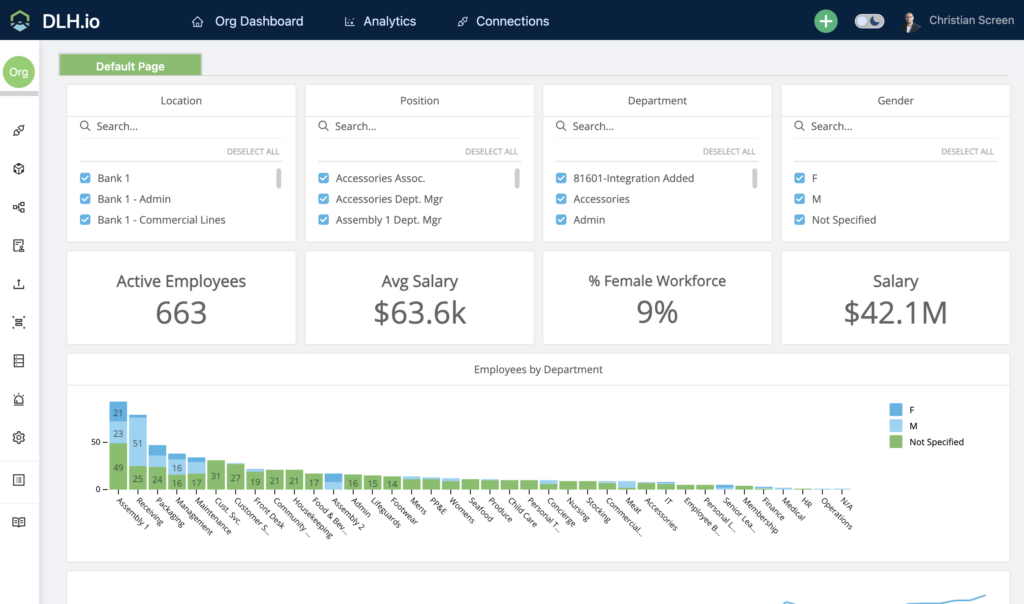 Your data is important and some of it is very sensitive. DLH.io can analyze your data to determine if certain PII logic exists in the data as part of the synchronization process, detect PII data based on out-of-the-box and customizable rules, and then apply certain logic like hashing, notify users, or quarantine the data.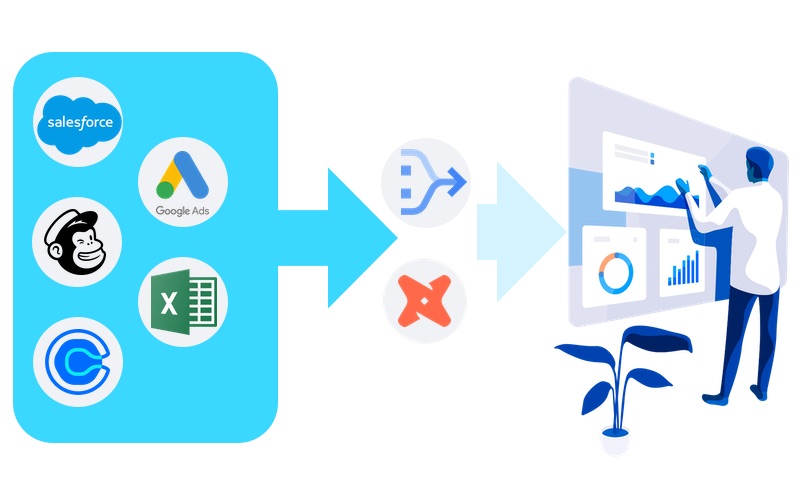 Collaborate on What Data Really Means
DLH.io is the only data orchestration platform that provides a built-in Data Catalog feature that allows your functional and technical teams to collaborate on data definitions. Assign people to metrics, tables, and specific columns they own; also identify Personally Identifying Information (PII) and tag it for added controls on your data.
The best from CDP, BI/Analytics and
Data Orchestration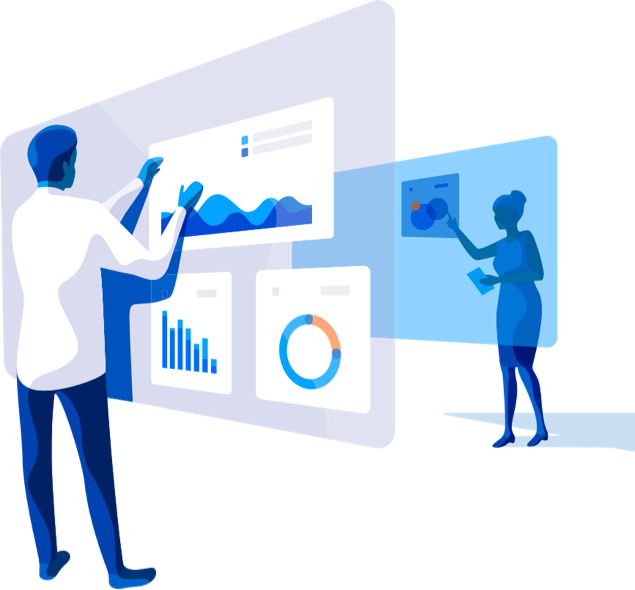 Analytics/BI
Great for building a reference to data when you have it in a format worth viewing. This is only part of the data strategy equation.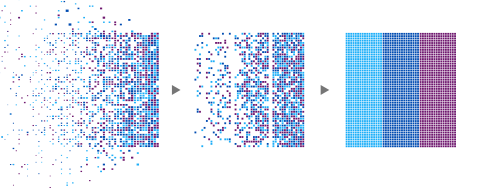 With DLH.io, it's all here!
Built in automated workflows, BI/Analytics visualizations, pre-built application data models, and clutch data orchestration features.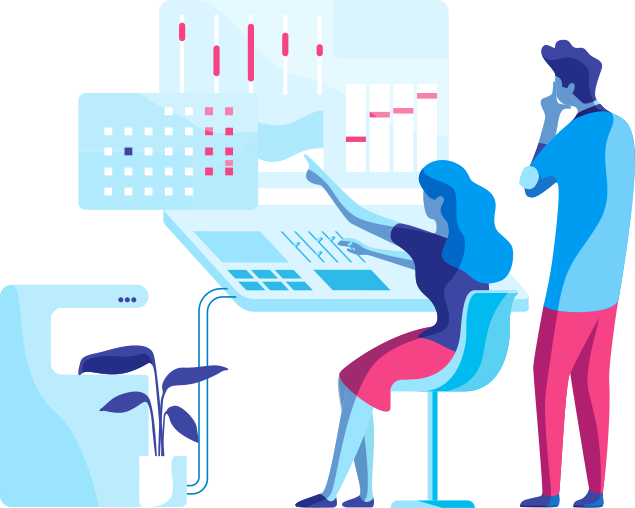 Data Orchestration
In order to build data models, or to use your data in an aggregated manner you first must copy or synchronize it to a single location.
Deliver excellence in data-driven orchestration at scale.
Introducing
Usage Analytics for Snowflake
Get started analyzing your Snowflake Usage in a matter of minutes. 
Don't build something that you have to maintain that still won't meet your demands.
Use our continually enhanced analytics for data-driven teams that just works out of the box.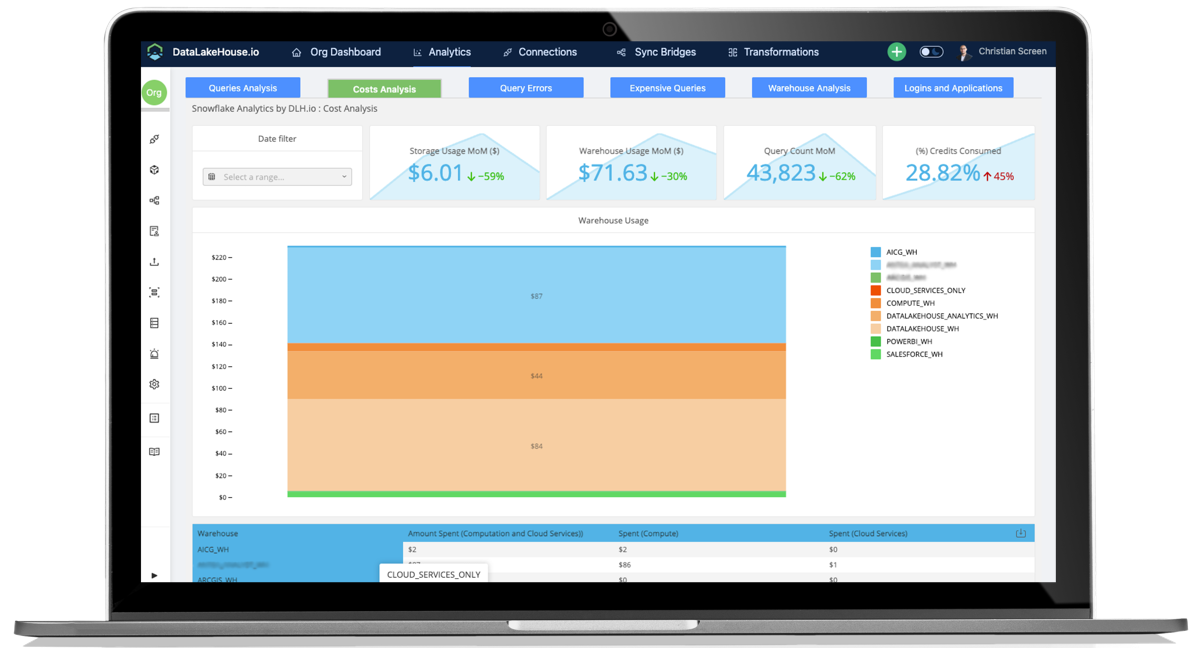 Watch a Snowflake
Usage Analytics Demo
Automate your Business Intelligence and analytics core data integrations, leverage our marketing, sales, and operation tools, workflows, and dashboards to accelerate your data to insights. DataLakeHouse.io, aka DLH.io, delivers on data orchestration and data security scanning for your digital transformation and data strategy journey, so you can focus on the high-value target aspects of your business.
DataLakeHouse.io is a data democratization analytics platform that offers an all-in-one, no-code data management solution. With Data Synchronization (ELT), industry-specific pre-built Models, and Analytics combined with Machine Learning, the platform offers actionable insights and predictions for extremely effective business decision-making. It's four pillar approach takes your organization from zero to analytics, saving you 40% faster development and deployment time to deliver answers to your business stakeholders in real-time.

DATA SOURCES
Bring your data from dozens of data sources on-premise or in the cloud.

ELT
Use our data synchronization tool to automate your source data loads your target of choice.
DATA MODELS
Use our industry-specific conformed data models that answer common questions for your business – fast!
ANALYTICS / ML
Self-service access to charts, pivot tables, and more. No data scientist? Start with our algorithms.
Integration with data sources
Our process. Your pipelines.
FAST data to insightS for you!
Extract and replicate your data on your schedule. Frequency matters and so does the consistency and quality of your data. We track all key points around synching your data to the cloud and provide your team with so much more to manage the last mile of turning your data into information for your users.

Our Platform:

No-Code + Pre-Built Analytics + Machine Learning
Synchronize your data from dozens of popular sources. Schedule at frequencies that align to when your business needs to see refreshed data.
Deploy pre-built single source of truth data models that give you instant analytics on your synchronized data in, expediting answers to your business questions.
Use industry expert developed reports, visualizations, and data science machine learning algorithms to forecast, predict, and provide data-driven recommendations.
"We are bringing several source systems together into a central location on a daily basis. From here, we have the ability to look at our business holistically. The analytic dashboards with up to date information really help us make the best business decisions possible in a timely manner. DataLakeHouse.io has also been instrumental in helping us provide our customers with the insights they need to run their businesses effectively."
"As our business has evolved, DataLakeHouse.io has been crucial for centralizing our data into Snowflake along with building the data models. The platform does not require us to have technical skills due to their no-code approach and we do not have to manage the platform. They have saved us both time and money compared to the tools we were previously using."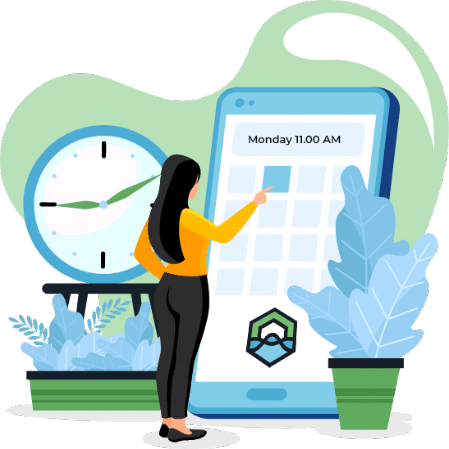 Schedule a Personalized Demo
Unlock the power of your data and inspire smarter business decisions. Book your demo now!
Ready to get started with DLH.io?